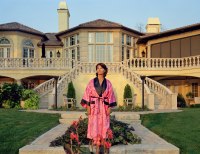 E
ver since I got the postcard in the mail the other week with this incredible photo advertising the Walker's new exhibit "
Worlds Away: New Suburban Landscapes
" I've been itching to attend. I love this image--the Suburban queen holding forth at her personal estate tucked away on a cul-de-sac in
Sudden Valley
. I can almost see a moat around the McMansion and I keep waiting for Carmella Soprano to pop out of one of the doors too. The exhibit opens this weekend.
Image: from the exhibit, Angela Strassheim, Untitled (Elsa).